KTC Brand Tools
KTC Brand Tools
Automotive maintenance is one of the most demanding environments for tools. For more than fifty years, KTC tools have been hard at work meeting the demands of automotive technicians for high functionality, safety and superior design. Our range of standard tools includes more than 10,000 items. This impressive lineup was designed in direct response to requests from technicians at automotive repair facilities. KTC tools are widely used by both professional mechanics and all those who enjoy working with high-quality tools.
Tool Sets & Tool Storage
KTC offers a variety of standard tool sets to suit a wide range of applications. These come in chests, roller cabinets, wagons and toolboxes. All are designed for easy mobility, ease of use, and easy sorting and arrangement. Safety features include stoppers that prevent lids from falling shut and external cushions that prevent the tool cases from scratching cars or other items. Our thoughtfully prepared tool selections and storage cases are efficient, easy to use and make every job go more smoothly.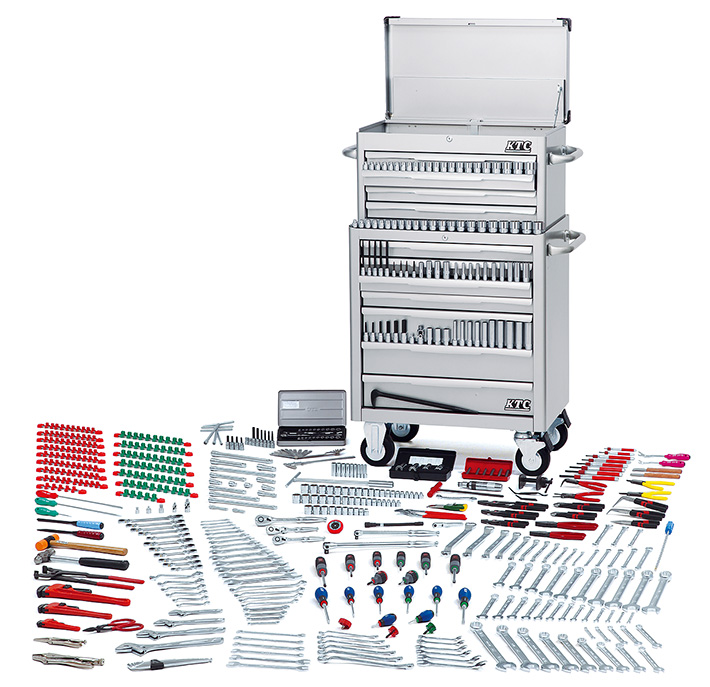 Automotive Special Tools
KTC has developed a variety of special tools that meet the needs of technicians working on hybrids and other modern Japanese vehicles. To enhance the quality of their customer service, and to ensure safe, efficient and quick work, we offer an extensive lineup of special tools that significantly reduce the technician's workload.